Interim Public Management CEO hopes to recommend 3 candidates by November 6th.
KINGMAN – The Kingman City Council's displeasure with City Manager John Dougherty's performance was made clear during a discussion with the man who will deliver interim leadership to the city. The Council conducted a work session with Tim Pickering, the executive director of Interim Public Management, a firm that provides interim executives to local governments.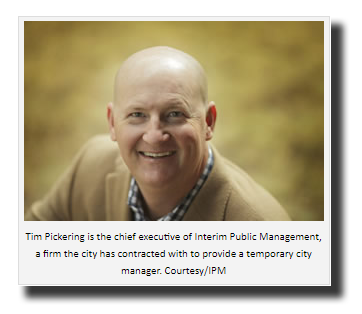 Pickering told Council members that he has a stable of more than 30 talented administrators that he'll sort through to find the "right fit" to lead Kingman when Dougherty exits at the end of November. "Anyone I'm going to provide has all the qualifications to be your city manager," Pickering said.
Councilman Stuart Yocum, referencing Dougherty, said the Council doesn't want a fence straddler. "He's been trying to patronize or make everyone happy and that's just an impossibility," Yocum said.
Council members, by consensus, told Pickering they want a seasoned and decisive interim administrator who possesses good communication and leadership skills.
"Right now we need somebody that has a strong personality because they're going to be dealing with people on Council that have strong personalities," said Councilman Travis Lingenfelter. "We need somebody that is going to take the Council's votes and basically get it done with the tools and the resources that they have and they're not going to let anybody tell them how to do their job."
"You don't want a caretaker," Pickering responded. "I can tell that."
Vice Mayor Jen Miles pointed out that Dougherty has opposed the current Council's wish to proceed with two Interstate 40 interchange projects in one package. She said the interim manager needs to be positive and embrace and implement Council policy.
"There is a great disjoint in what this Council wants to do and how this Council wants to move forward and what the city manager believes should be done," Miles said. "That is in my mind a key issue and he (Dougherty) has publicly stated that he does not agree with us."
While members Vickie Kress and Jamie Scott Stehly did not attend the work session and Yocum and Mayor Monica Gates participated by telephone, the Council also expressed hope that incoming leadership can command and align staff and all resources to pursue the interchange projects, airport initiatives, and economic development personnel and policy.
Lingenfelter said he wants incoming leadership to be able to "rise above the culture of 'no.'" He said he wants the administrator to be willing to bring a "wrecking ball" where necessary to the status quo as the Council works to move Kingman forward.
Pickering said he plans to offer two or three best-fit IPM associates to interview for the interim leadership post, on or before Nov. 6. He said a choice could formally be made at the Nov. 7 Council meeting with an interim manager coming aboard in early December.
While contemplating interim leadership, the City Council has also embarked on a comprehensive recruitment process that is hoped will lead to the hiring of a new full-time manager next April.
Written by Dave Hawkins
Category: CommunityWise
Published: 25 October 2017